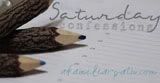 1. I have never been so ready for a month to end. April was full of so many hard things and I spent a lot of it in a funk. The good news is that May begins tomorrow! I love turning the calendar to a brand new page.




2. I had absolutely NO idea that Kate Middleton's sister was named Pippa when I titled my

last post

. I had NO idea the number of hits my blog would receive because of it either. Wow.




3. I watched a ton of royal wedding coverage and loved every single minute of it. I slept until 5am so I missed the actual wedding ceremony but saw the procession to Buckingham palace and everything after that. We don't have a DVR but I was able to find enough coverage yesterday afternoon to satisfy my curiosity. The girls loved it too!

4. I felt guilty enjoying the pageantry of the royal wedding knowing that many friends in the South were facing a much more stark reality. The tornados and the flooding have taken so much from so many...and it simply

breaks

my heart.

5. I went to Will's track meet on Thursday afternoon and realized

after

I'd parked my van that I was at the WRONG school. UGH. I'd looked up directions to Challenger Middle school earlier that morning and saw that it was on Lexington and thought I knew how to get there because we've had events at that school before. When I pulled in the parking lot I noticed the sign said Mountain Ridge Middle school. John was already there (and wondering why he couldn't find Will or any of teammates at the track meet going on there.) Duh! I felt so stupid. My girls and their friends who were with us were laughing so hard at my goof-up! In my defense, BOTH schools are on Lexington and are less than 2 miles apart! I bet I'll never confuse Challenger and Mountain Ridge middle schools again.

6. I am tired of wearing sweaters. And jackets. And winter coats. I nearly froze at that track meet and I've worn a sweater almost every day this week. Tomorrow is MAY for crying out loud.

We have had plenty of nice days though so I really should not complain.



7. I was

way more excited than I should have been about a television show

giddy

last night when I realized that this season of Friday Night Lights is available on Comcast On Demand. We've missed the first three episodes (because we don't have a DVR!) but now we can catch up! You do know that is our

favorite show on television

, right?

8. I mentioned in confession #1 that I've been in a funk. I feel like I'm slowly emerging from it, but I also feel like I'm emerging with my eyes wide open. Some of the hard things from April that I alluded to have caused me to examine my priorities and all the different things that I put my time and energy into. I'll be honest, I didn't like everything I saw. I'm making some positive changes but I'm a little fearful too because it means stepping away from what is familiar and comfortable. Change is good, but change is oh-so hard.