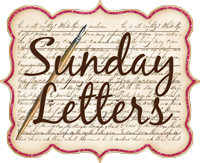 My friend,
Deidre
, writes a letter to her family every Sunday. I love this idea so much that when she invited her readers to join her, I was more than willing to throw my self-imposed "No Blogging On Sunday" rule out the window.
Here we go.
Dear Abbey,
(
Sounds like I'm writing a letter to a newspaper columnist. Giggle.
)
I'm so sorry you've been sick this weekend. You were excited to get to spend the night with your favorite friend on Friday and were so disappointed when you had to leave school early because you weren't feeling great. It would have been your VERY first time to sleep over at a friend's house. We'll make it up to you, sweetie. I promise.
Dear Sarah,
I had a fun time with you yesterday afternoon. Love that you talked my head off in the car. Love that you wanted to look at every single thing in Ulta. I also love that you told me I was your favorite Mommy. Maybe that was because I took you to Starbucks after we did some shopping, but I really just think you enjoy the one-on-one time with me as much as I enjoy it with you. You are so sweet to always say "Thank you" whenever we help you or do something for you. And your generous heart is a blessing to everyone around you.
Dear Will,
You came home from church today and put your pjs back on...that made me smile so big. You love to be at home, but "weekend" plans with friends are becoming more and more the norm for you. That makes me both happy and sad. I like your friends--you've made wise choices in regard to who you spend your time with--and I'm proud of you for that. I just love it best when we're all home together! Every afternoon for the last couple of weeks, you've gotten in the van after school and asked about my friend,
Joanne
. Your concern and compassion has been so genuine and so touching. I love you, buddy. This week we'll be heading to the high school to get you registered for your freshman year. I don't know if you saw my tears last night when we were discussing your schedule/classes, but they were there...and they were real. Denial doesn't seem to be working for me.
Dear John,
(
Giggling again. This time it sounds like I'm writing a "good-bye" letter.
)
I know you're under enormous stress right now because of the projects you're juggling. Thank you for working so hard for me, for us. I probably don't say that enough.
Thank you also for always being so quick to forgive and seek restoration when our relationship is
challenged
. After two "discussions" this week, you came to me, apologized, and asked forgiveness. I think we both know that I was the one who should have initiated the apology. You continually set an amazing example of humility, sacrifice, and compassion--both for me and for our children. I love you!
I'm also sorry that I missed the class you were teaching at church this past week. I think you know how much I wanted to be there and how torn I was. Thank you for releasing me from guilt and sending me off with your blessing (and your Visa gift card!)
------------------------------------------
Deidre would love for you to join her in writing Sunday Letters to your family.
More details here
.