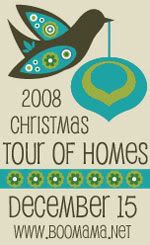 For several years now I've wanted to make a small scrapbook with photos of all of the Christmas ornaments I've collected over the years. I started (sorta) last year with a series of ornament posts. I still need to finish the actual scrapbook, but because my mind seems to work more quickly than the rest of me, I had the grand idea this year to just make one big scrapbook about all of my sentimental Christmas decorations and the story behind them. So...I've been taking pictures of some of those things today. I guess technically, this isn't a

tour of my home

, but it is a visual tour of some of my favorite things.
One of our four nativity sets. I bought shortly after John and I were married (deeply discounted) at Hobby Lobby. It reminds me of the brightly colored nativity set that belonged to my grandmother. My kids each have their own set that they keep in their rooms.
I bought this Advent calendar when Will was a baby. It is a well-loved decoration and one of the first things we pull out each year. My kids have a system figured out for which of them gets to hang the ornament on each day. They *always* remember when it's their turn too. I had it personalized with our family name at the bottom, but I cropped that part out. (smile)
Our Christmas tree. It's not fancy, but it's special to us and each ornament hanging on it's branches has a story to tell. I posted some of those stories here, here, and and here. We have hundreds of ornaments and they're each so unique and sentimental.
This trio of snowmen look so perfect on top of my fridge. I bought this set one year in Camden, AR at the Tate Barn Sale. I LOVE them, and usually keep them out until February.
Chocolate Advent calendars are one of my kids' favorite things each year! I found these at Trader Joe's when I was in St. Louis and they were only ninety-nine cents!!! (I am just sick that there are no Trader Joe's in Colorado. It's such a cool store!)
This squirrel cracks me up. It was a gift to my husband from his good friend, Rich. There's a funny story behind it. Years ago when Will and Sarah were in preschool, John volunteered to go read to their classes. They went to a fabulous preschool that was on a college campus and all of the education majors did a practicum there. Anyway, one of the teachers chose a book for John to read that autumn day and it was about Mr. Squirrel and his lost nuts. The refrain on every single page was "Mr. Squirrel has lost his nuts...oh where do you think they could be"? All the college girls were cracking up while he was reading, and my pastor-husband turned about 500 shades of red. He endured to the end of the story, but he never volunteered to read to the class again.
John shared that story with Rich a couple of summers ago in Santa Fe, and now Rich sends us all kinds of squirrel stuff. I don't know where he found this Santa squirrel holding a giant nut but it is priceless!
This is my Christmas stocking that was hand-knit for me by my Nana. I'm 38 years old, and so is this stocking. I don't know exactly how many stockings my Nana made, but that side of my family is very large, and most all of us have one. However, very few of us have one with a Christmas tree on it. Lucky me. My mom knitted one for John after we were married, and one for Will too...but when the girls came along we switched to some beautiful needlepoint ones that we use instead. When I was in St. Louis a couple of weeks ago, my aunt had her stocking hung up on her mantle. It made me nostalgic for mine so I pulled it out when I got home.
As a child, I was always fascinated with the beads that were sewn on as ornaments. It always made me sad that my name was so long it had to wrap around the back. My mom, sister, and brother have long names too so at least I wasn't the oddball. :)
We have a great collection of Christmas books that we pull out this time of year. This is the traditional The Night Before Christmas and it's the version I grew up reading. It isn't the same exact book I grew up with, but is a newer edition that my sister gave to my kids many years ago. We always read it on Christmas Eve night.
This cloth nativity was a gift from John's mom. I think it is so beautiful. Sarah sees it and says that it's "just all wrong" because Mary and Joseph weren't dressed that fancy when Jesus was born. She's probably right.
Our Advent wreath. We lit the third candle at dinner last night. Now...I know that our candles aren't the traditional purple and pink, and I know you're not supposed to light the middle candle (Christmas candle) until Christmas Day, but that's just how we roll around here. Besides, these colors go with my kitchen a little better than pink and purple, and that white one in the middle is a yummy sugar cookie scented Yankee candle.
That's all for now...but I'm already thinking of Favorite Christmas Decorations, Part II. Be sure to
visit Boomama's Christmas Tour of Homes
for more beautiful Christmas favorites.